Weekend in Thame
This was a huge success and I would like to thank again those of you who hosted the 30 Montessonnais who visited us. Without you, none of this is possible!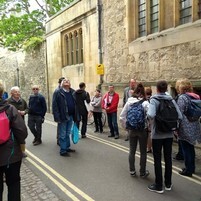 We had a very informative guided tour of Oxford in French on Saturday morning and despite having lived in Oxford for a year and Thame for 32 years, I discovered parts that I never knew existed!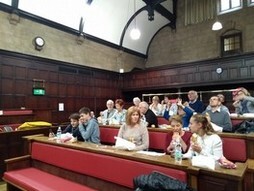 A dodgy weather forecast forced us to revise the plans for our picnic lunch and what a bonus that proved to be! A last minute phone call by Linda to Oxford Town Hall meant that we could use a room inside the Town Hall. None of us could quite believe our eyes as I opened the door and we found ourselves in the actual court room. An amazing setting for a picnic – the French were mightily impressed, as was I, I might add! We won't forget that for a long time.
Despite many of t
he colleges being closed for graduation ceremonies, everyone found something to do in the afternoon and the rain held off until we were back on the coach. I was fortunate enough to find one of the colleges that was open and can thoroughly recommend the grounds and chapel of Worcester college. What's more, entry is free of charge!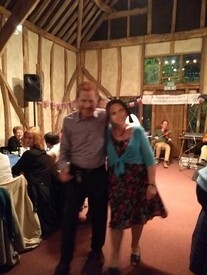 The day was about to get even better! At 7pm we all gathered in the barn at Towersey Manor for our communal meal and Barn Dance. This was everything we'd hoped for and better! The barn looked the part with twinkling fairy lights and candles the band played traditional music and the meal was delicious and plentiful. We even had a surprise visit from Harry and Meghan! Amazing!!
After the meal and a couple of short speeches, we pushed the tables to the side and the evening was about to get even better. Nearly everyone took part in the dancing which went on until past 11pm. The band and their caller were superb, the atmosphere was so friendly and convivial and everyone really, really enjoyed themselves, sharing much laughter and friendship . A fantastic evening! A big thank you to everyone who took part and to those who helped tidy up, but especially to Linda and most of all to Marie-Jane who let us use the barn and provided the band. Without her generosity none of this would have been possible and we are truly grateful.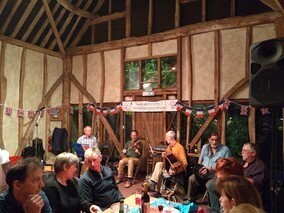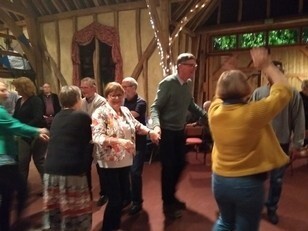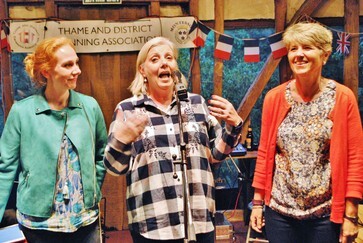 Sunday was a much more relaxed affair with guests and hosts relaxing or recovering from their very busy Saturday.

I think that most people preferred having the communal meal on Saturday, although getting everyone on the bus to leave on time was still difficult, especially as the bus driver wouldn't bring the bus to the usual spot behind the town hall! Not everything can be perfect!! The main thing is that everyone had a wonderful weekend and I quote from an email received from Anne (chair of the Montesson Committee) as they approached Montesson:
"Everybody - unanimous- spent an amazing weekend, rich of joy, friendship, discoveries and much fun !
Every moment was just perfectly organised and the dance evening was a real highlight ! In the coach we all shared our souvenirs of barn dancing. That was just fantastic !!! The dinner was excellent and the atmosphere so great 😀
We're looking very much forward to coming next year again !
On the shuttle back home we shared pieces of Norma's wonderful and delicious EU cake ! Very symbolic !!!
Many thanks again for all the work to welcome us soooo well !
I think that just about sums it up!