Each year, during the last weekend of November, the twinning committee of Montesson hold a Christmas market in the centre of Montesson. Thame Twinning always has a stall at the market and last year we opened a tea shop. If you are interested in helping at the stall or even having your own stall please email Linda at lindaemery@btinternet.com for further information. This year the market will be held on Saturday 29 and Sunday 30 November. We can find accommodation but you would have to make your own way there.
The Thame stall sells jams, marmalades, christmas puddings, christmas crackers, tea and even Marmite (a favourite of the Mayor of Montesson, Jean-Francois Bel).

2006
GIFTS to Thame ex-servicemen from a grateful French lady in Thame's twin town, were presented by the town's Twinning Association.
The gifts were given to Thame and District Twinning Association members during their recent visit to Montesson for its Christmas market.
Madame Andrée Charbillot, an elderly citizen of Montesson, Thame's twin town, told them why she wanted to show her appreciation for the help the British forces gave to her compatriots during World War Two.
In her broken English she explained that, as a little girl of four, her family was under seige in Paris during its occupation by German forces, when food was very scarce. Despite curfews, and at risk of his own life, her father carried her and her sister from a railway station just outside Paris, 40 kilometers - walking all the way with her as the youngest in a bag on his back, to the village where her grandmother lived. Here, in the village of Malsherbe, he managed to collect together some food with which he then returned to his wife and other daughter in Paris. This he did several times before Paris was liberated by English soldiers in the autumn of 1944. Malsherbe was apparently about seven kilometers from a village where gypsy and jewish children were being collected together to be taken away to death camps, so not a safe area to be in at that time.
In Montesson, Andrée spoke of her memories of living in Paris during the occupation, including having to join hundreds of other families below ground in the Metro stations during allied bombings of Paris. She made it clear that her and the other elderly people who remember the war, are so grateful for what the British soldiers did, that, as she said:"We will never, ever forget."

Andrea with Nigel Champkin-Woods
Photo and story from Thamenews.net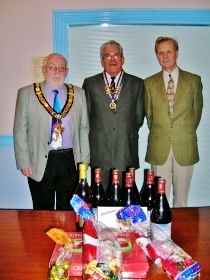 The presentation of several bottles of wine, a bottle of Cognac and Christmas chocolates,
made to John Day, the President of Thame & District Royal British Legion, and its Chairman, Robert Bartlett.