Thame Christmas Market 2016
EVEN of us came from Montesson to Thame for the Christmas Event on Friday, and what a welcome! After a very good journey through the Channel tunnel we arrived in Thame at 2pm, to be met by our Thame Twinning Association friends, Linda Emery, Carl, Sue, Roy, and David who had already settled our gazebo and our electrical needs.
We were welcomed with friendly hugs and hot teas and coffees from the Co-op coffee shop brought to us by Linda on a tray while we were unloading. We started to sell our products: wines, cheeses, jams, olive oils, ginger breads and our crêpes, along with something new, this year – the buckwheat pancake stuffed with ham and Emmental cheese. The market was slow at the beginning but became busy and crowded by the time of the beautiful Lantern Parade and the big Switch-on. And then the ambiance was really joyful and magical! It was late when we decided to stop making crêpes. We returned to our host families to warm up and have dinner.
On Saturday morning we settled again in our little market on the other side of the Town Hall facing Greyhound Walk. Friendly people stopped by while they were shopping even if it was to just have a little chat and it was nice to meet them. At some point we ran out of crêpes batter and we had to stop but it was already 2pm and we were very happy with our experience. We really needed to warm up a little so we gathered at the James Figg pub where we were joined by Linda Emery, Sonja Francis and Sue Motteram and we experienced the ambiance of the pubs in Thame: fun, talk, friendship and good drinks.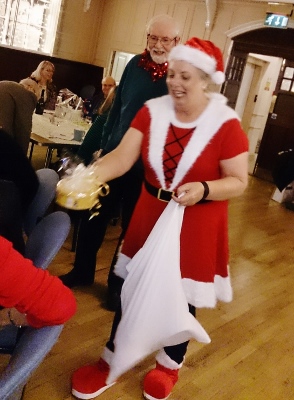 That evening we had a wonderful party at the Town Hall: homemade soups, cheeses, bread and crackers, homemade desserts and wines. We tried to sing along with the Christmas Carols, and a tombola gave us lovely prizes. Eventually, a pretty Mother Christmas, Linda, brought us presents. What a night!
Sunday was time to get back to France. Rendez-vous was at the Town Hall at 10am – just in time to encourage the "Santa Dash" fun run, and off we went. Farewell to ours friends. Happy, happy holiday season to Thame and its inhabitants.
Contributed by Elisabeth Charriere