15th Anniversary Celebrations
THAME'S celebration of its 15th anniversary of Twinning with the French town of Montesson, attracted county-wide attention this weekend, when BBC Radio Oxford called up a group of Montesson walkers trekking from the outskirts of London to Thame, to commemorate this landmark of the two towns' relationship.
Long-time Twinning supporter, Montessonian Bernard Chevalier, told BBC Presenter, Allie Jones: "We are very proud of our twinning. Our histories are so connected. We are free: everybody is free. But we must know each other and each must respect the other." Bernard was one of six people from Montesson who celebrated this landmark in his town's special relationship with Thame, by walking for four days, from Denham, Bucks, to Thame, mostly following the South Bucks Way, a section of the the Chilterns Way and finally the Phoenix Trail into Thame itself on Friday evening, May 13.
The Walking Frogs, as the group called itself, experienced drenching, monsoon-like weather conditions on their first two days, but were sustained by Steak and Kidney pudding and 'the Full English' breakfasts at their accommodation en route. The group reported that they were delighted to meet so many friendly and helpful people on the way, including 'Pete' at Denham station, who had heard they were arriving at his station via Thame.Net on twitter, and kindly directed them to the start of the South Bucks Way. During the last two, sunnier and drier days, some members of Thame Twinning Association walked with them from the Crown at Little Missenden to Icknield Lodge, Princes Risborough, and from there to Thame, the latter stretch including a splendid picnic lunch provided by What's Cooking, in Thame.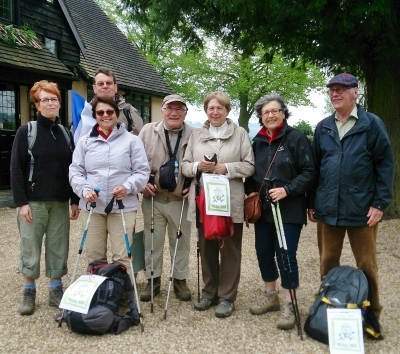 The Walking Frogs( & guest walker from Thame – left), set out on the last leg of their trek to Thame
France to Thame the hard way !
Simultaneously, six cyclists from The Montesson Athletics Club rode for eight days from Montesson to Thame, arriving at the same time as the walkers, very cold and weary but still smiling. Together they were ushered into the warmth of Rumsey's cafe and given a proper British welcoming cup of tea or coffee, or a comforting hot chocolate. They reported a tough but interesting expedition with only one minor injury when one of them fell over on his bike. As a full coach of French visitors arrived at Thame Town Hall, everyone was welcomed by the famous Towersey Morris side who entertained, surprised and delighted the crowd outside before everyone filed up to the Council Chamber for an official welcome by the new Mayor of Thame, Linda Emery, who is also the current Chair of Thame and District Twinning Association.
Once back in Montesson on Sunday evening, Elisabeth Charriere, who lead the cycling group, summed up their journey: ""We were six cyclists from Montesson who wanted to experience the Avenue Verte Paris-London. We already knew the French part which is well sign-posted, comfortable, reasonably easy and attainable by any cyclist. We discovered the English part which is very hilly, not always very well sign-posted and sometimes not safe since it includes narrow and busy roads. Anyway, we made it to London which we crossed on a beautiful sunny day.
"Cycling in the big city was pleasant. We evaded much of the clutter of London by leaving via the towpath of The Grand Union Canal. That took us to the Chilterns Cycleway where we encountered more hills. We finally reached the Phoenix Trail which brought us to Thame just at the same time as our friends, the Walking Frogs.
"We managed to accomplish this adventure because we were motivated to reach Thame and because we were committed to doing it together. We had, as usual, an amazing welcome and were spoiled by the generosity of our hosting families. Right now I can't imagine a tougher way of coming to Thame. For us it will always be an unforgettable adventure."
Sight-seeing, shopping and history
The birthday weekend's programme had included a full day in London on Saturday for the visitors, taking in a guided tour of part of Prince Albert's collection at the Victoria and Albert Museum followed by sight-seeing – including 10 Downing Street – and shopping! On the Sunday a group of both hosts and visitors, were treated to a fascinating talk by ex Headmaster of Lord Williams's School, Geoff Goodall, about the amazing history of the school, introduced by Thame historian and school archivist, Derek Turner. They learned how Lord Williams's School was founded in 1559 on the death of Lord John Williams of Thame – an important man in the court of Queen Elizabeth 1. He had held high State positions including Keeper of Jewels and President of the Welsh Marches, and was rich and influential. He owned large areas of Oxfordshire including his home at Rycote Manor.
After the talk and a tour of the school and a chance to examine some of the school's historic record books, the Montesson committee were introduced to two of the current school's Language teachers and two Sixth Form students who are studying French.
Time together
Evening mealtimes throughout the visit were with host families and for a group of dependent young adults from Foyer des Courlis in Montesson, their Saturday night treat was a Disco and supper held at Racquets Fitness in Thame. Younger members of one Montesson family earlier in the day, visited the Chinnor and Risborough Railway for a ride on a steam train.
Let them eat cake!
After a communal Sunday lunch at the Three Horseshoes at Towersey, Jean Francois Bel, the Mayor of Montesson and Cllr Don Butler – who were the two Mayors back in 2001 when the Twinning began – helped Linda Emery blow out the candles on a special, 15th Anniversary cake, made by Norma Laver, of A Piece of Cake in Upper High Street, Thame. A very special moment came when it was revealed that two women, now with young families, one from England and one from Montesson, had been brought together once more by a member of Thame Twinning, years after they had been pen friends at school.
Reflecting on the weekend back home in Montesson on Monday, The President of the Montesson Twinning Committee, Anne Gillett, messaged: "It was an immense joy and enormous honour to take part in this important anniversary. I'm proud that some of our members are so dynamic and creative to organise special and symbolic challenges French bikers and walkers joined by English walkers). I'm also deeply moved by the links of friendship that have grown up between Thame and Montesson people. Twinning is a very interesting way to meet other people and the hosts families are just amazing !
"We're lucky to have you all ! Thank you. Longue vie à notre jumelage!"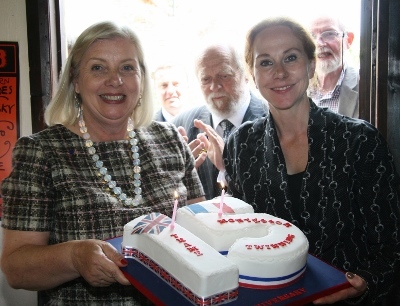 Article and photographs courtesy of Thamenews.net