Dear Friends,
Easter is nearly here, the spring flowers are in full bloom, the sun is shining warmly and the days are getting longer! Moreover our French friends will be arriving in Thame in just over 5 weeks and after a few quiet months of planning, the Twinning weekend is in the final stages of preparation. Other events are also planned and we hope you are already saving a few dates.
We equally hope that this update will keep you informed of recent and future events.
Community stall at Thame Market, Tuesday, 13th March.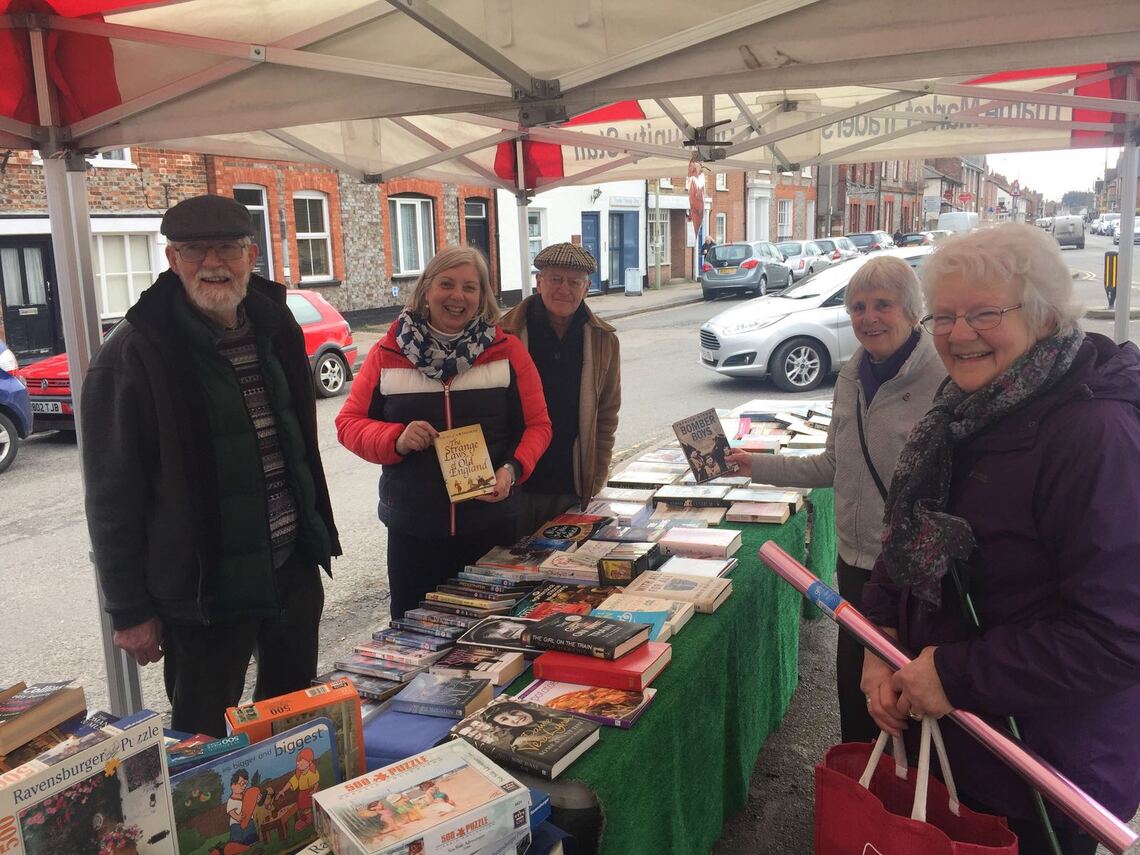 The stall provides us with a slow but steady income – around £50 last time – and we are very grateful to David Laver who organises this for us. Thanks also to those who give up their time to man thestall and to those who provide the books etc for us to sell. A big thank you especially to Dudley Wilson who brought along jigsaw puzzles, donated by residents of Sharman Beer Court. These sold particularly well, so if you have a few old puzzles or games gathering dust somewhere, please dig them out and let David have them before our next stalon Tuesday, 17th April or bring them along on the day. Books and anything else that you think will sell will also be gratefully received!
Film Nights
These also provide us with a small but steady income from the £5 entry fee. Last Friday evening around 10 members enjoyed La Tête en Friche starring Gérard Dépardieu. If you've never been to one of our screenings, please do consider joining us. All films are shown on a big screen and have a French soundtrack with English subtitles. We meet in the upstairs room in the Cross Keys and ask that you buy a drink from the bar as a thank you to the landlord, who lets us use the room for a very small contribution towards the projection equipment.
The next film to be shown is "The Welldigger's Daughter, based on a novel by Marcel Pagnol (well known for his novels, "Jean de Florette", "Manon des Sources" and "La Gloire de mon Père.) This will be shown on Friday, 18th May at 8pm.
Thank you again to Liz Barker for continuing to organise and run the film nights. Please let her know that you will be there!
liz@barkersofthame.plus.com
Ps: Watch this space for the title of the film to be shown on July 20th. Meanwhile, save the date!
Twinning weekend May 11th - 13th
As already mentioned this is getting very close, but plans are very much in hand for what we hope will be a most enjoyable weekend.
Feedback received so far about the Saturday evening event has been very positive and we are working very hard to make sure that it goes well.
It will come as no surprise to those of you with long experience of the weekend, that we are still waiting for the list of visitors. Presumably those of you who receive the same friends each year have been in touch and already know whether or not they will be here.
We appreciate your patience and are grateful to everyone who has already let us know that they will be able to host this year. If you are no longer able to host please let me know asap. Equally if you haven't already responded, it isn't too late to offer to host. Traditionally we have more people wanting to come than beds! (sue.motteram@talktalk.net or 07763816013)
If you know of anyone who would like to be involved, please do encourage them!
Provisional itinerary:
Friday 11th May, 6pm : Arrival and short drinks reception at the town hall. Evening with hosts.
Saturday 12th May, 9.30ish : Leave for day spent in Oxford. A guided walking tour of the main sites in French has been booked for 11am.
Packed lunch (provided)
Afternoon free for shopping (new Westgate centre?) or self- guided visit to a college or museums (eg: Natural History Museum, Pitt Rivers) or even punting.
We will provide a map and list of museums, colleges, things of interest etc + entry fees
Return to Thame for about 5pm
7.30pm Communal meal and ceilidh at Towersey Manor Barn
Sunday 13th May : Morning free
2pmish: Departure (probably from the town hall)
All hosts will of course be invited to the meal and ceildh free of charge.
If you are not hosting, but would like to come, we hope that this will be possible for a small charge, but clearly this depends on how many visitors and hosts we have to accommodate.
Return trip to Montesson.
Provisional date: Friday 14th September – Sunday 16th September
This may seem like a long time away, but we need to plan. Ideally there will be enough participants to have a coach, otherwise we will hire a minibus. The cost can't be fixed until we know how many people we have, but we would aim to keep it below £120 per person.
Please let Linda know if you are interested asap, so that we can start looking into the costs. (lindaemery@btinternet.com or 07805229556
Other events and dates to save:
Saturday 9th June
Thame Carnival. We hope that a good number of us will help publicise the Twinning Association by taking part in the Parade. The theme this year is "The Countryside".
If you have any ideas for how we can "dress up", please do let us know. The more the merrier!
We've booked a stall on the carnival field and will do the same activities as last year as they were very successful. We would be very grateful for anyone who can spare an hour or two to help man the stall. Most particularly we need helpers for the children's biscuit decorating! Apparently this was the most popular thing with the children last year, but unfortunately my daughter's going to be on holiday, so can't run the activity for us this year. She knows I'm not impressed!!!
Friday 29th June at 7.30pm
AGM at Christchurch
Friday 2nd November
Quiz night with Sue Boyle at the Town Hall.
Have you organised your team yet?
Friday 30th November
Thame Christmas lights switch on and street market.
Fingers crossed that this won't clash with the Montesson Christmas market. We have already let them know.
GAZEBO wanted!
We're looking into the possibility of buying a Gazebo to use at all of our open air events, but in the meantime, if anyone has one that is surplus to requirements or one that we could borrow, we would be very grateful.
Please contact Linda: lindaemery@btinternet.com or 07805229556
Joyeuses Pâques à tous et à toutes!