A frantic month of events and fundraising is in full swing.
QUIZ NIGHT 2

nd November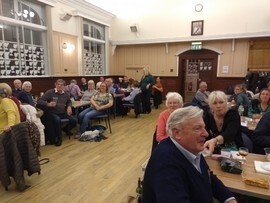 Despite our usual fears of only a few loyal teams turning up, the town hall was full! 9 teams (58 people) took part in the excellent quiz prepared and hosted by Sue and Phil Boyle. The questions had something for everyone, including some French themed rounds. The scores were very close and it all came down to the last round where the Saturday Strollers played their joker and scored full marks, thus securing their place at the top of the leader board. The atmosphere was friendly and fun and we are very grateful to Sue Boyle, who played no small part in this.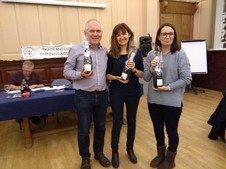 Thank you also to Carl for donating 2 bottles of champagne for the champagne treasure hunt, which was again a big success, selling 86 tickets.
The total amount raised after costs was around £350. We made a donation of £75 from this to the British Stroke Association (Sue's nominated charity).
A big thank you to those of you who came along.
Sue is already booked for next year – Friday, 1st November. This is a great night out for just £5 a head. Please save the date and let your team know.
100th Anniversary of the Armistice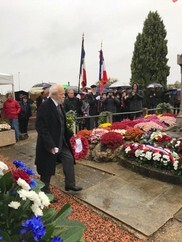 Wreathes were laid at the Remembrance Day Commemoration services in both Thame and Montesson. David Laver took part in the ceremony in Thame and laid a wreath on our behalf.
We are very grateful to Don and Elaine Butler who represented us in Montesson and where Don laid a wreath on behalf of the people of Thame.
I am sure he spoke for us all when he said: "It was a very poignant occasion and a great honour to be there, united in our thanks to those who made the ultimate sacrifice for us all"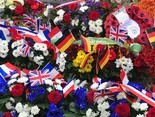 A wreath was also laid by a representative from Baesweiler, Montesson's twin town in Germany.
During the weekend Don was interviewed by local sixth-formers – we look forward to hearing about that.
Upcoming Events
The next 2 weeks are going to be very busy.
Montesson Christmas Market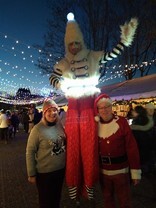 On Friday, 23rd November Linda, Carl, Dudley, Sonja, John, Sue and Roy will be making their way to Montesson for the Christmas Market. Carl has done lots of shopping for things which sold well last year and Sue has spent the week making jam, chutney, Christmas decorations and painting wooden spoons amongst other things. Fingers crossed that everything sells! If not, we will try again at the Thame Christmas event the following weekend!
This is a final call for your home-made cakes etc – please take them to Linda before lunchtime on Thursday 22nd November.
(21, Maple Road OX9 2BX Tel: 01844 261064 or 07805 229556).
PLEASE make some cakes – they sell incredibly well and we make a huge profit from them! Just remember to attach a list of the ingredients, particularly with regard to allergens.
Thame Christmas Lights Switch-On
We have a stall at the Thame event on Friday, 30th November, where we will probably have a tombola with the items we didn't sell in Montesson. We will also be supporting our friends from Montesson who will be coming over to sell their crêpes, wine and other French specialities.
A team of 6 Montessonais will be arriving at about 2.00pm to be ready for the start of the event at 3.30pm. If you are able to come along to help set up the gazebos and tables, your help will be greatly appreciated.
During the event children from John Hampden will be singing a Christmas carol / song in French – thanks to Sonja and Sue for liaising with Laura McRonald at the school. We hope that this is the start of a thriving link between John Hampden and a Montesson Primary School.
The event finishes at around 7.00pm – please do come along to say hello and preferably buy something at the same time!
They will be manning their stall again outside the Town Hall again on Saturday from around 10am – 3pm depending on the weather and sales!
Christmas Party, Saturday 1st December
This will take place as usual in the Town Hall, starting at 7.00 pm. Your invitation is attached and is extended to friends and family. The more the merrier, however we do need to know how many to cater for. Tickets are £8 each.
The date has been chosen to coincide with the stay of our Montesson friends, who always enjoy the evening. Supper and drinks will be provided – nibbles, soup, bread, cheese and dessert and we hope that David Jackson will be able to lead some carol singing as last year. Santa will be making his customary appearance of course!
We hope to see you there – please let me know by Wednesday 28th November.
In order to keep costs down we would be very grateful if you are able to make a pudding - again please let me know if you are able to help.
Film Nights
On Friday 19th October around 10 members enjoyed a very touching and heart-warming film, Etre et Avoir, which was more of a fly-on-the-wall documentary of life in a small rural school in the Auvergne around 20 years ago.
The next film will be shown on Friday, 4th January at 8pm in the Cross Keys. This is a very different film and one which has been recommended by friends in Montesson. The title is Camille Claudel 1915 and its a film about the tragic life of Camille who was Rodin's Mistress.
Watch out for further details from Liz Barker, to whom we are very grateful for sourcing and taking charge of this branch of our fundraising.
As ever we would like to thank you for your continued support and generosity and hope to see you at some (even all) of these upcoming events.