Still on a high from our fantastic weekend in Montesson, we set up our stall again on Friday for the Thame Christmas Lights Switch-On, hoping that the weather would stay fine and that the crowds would turn up!
More importantly, we very happy to welcome Huguette, Catherine, Janine, Elisabeth, Jean-Pierre and Michel from Montesson who quickly set up their "crêperie" and excellent selection of good value wines.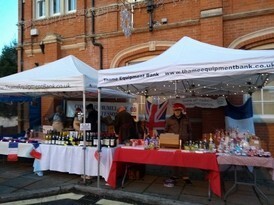 No-one was disappointed. Sales started slowly, but as night fell, the crowds materialised and we were overwhelmed with customers. In fact we sold out on the tombola and took a magnificent £180. Unfortunately our profit will be only around £110 after we've paid for the gazebo hire and drinks licence - purchasing our own gazebo is now high on our list of priorities and we hope to have one in time for our next outdoor event.
The French contingent were equally pleased with their sales but were especially pleased to serve crêpes to Year 3 pupils from John Hampden who had been sent vouchers from their twin class in Montesson. The children were taught to ask for their crêpe in French – this was a great way for them to see that being able to speak another language is a useful skill!!
A big thank you to everyone who helped on the stall and putting up and taking down gazebos, especially David (Laver), Roy, Carl, Dudley, Linda and Sue.
The Montessonais set up again outside the Town Hall again on Saturday and by mid-afternoon had only a few bottles left. As you can imagine, they were delighted and celebrated with a couple of drinks in the pub!
Meanwhile quite a number of us were busy preparing for the evening Christmas Party, be it by making soup, puddings, making and wrapping Christmas presents for our guests, decorating the town hall, sorting out the music etc etc. I think it is very true to say that this Christmas party was truly a joint effort by a good number of members. Your willingness and generosity is incredible and of course essential to our success. It's impossible to list everyone who contributed, but you know who you are and we thank you!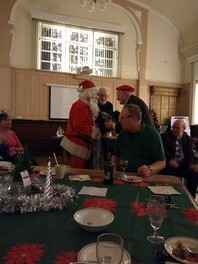 By 7pm everything was ready and around 30 of us enjoyed a very amicable and fun evening, which included the customary visit of Father Christmas who took time out of his busy schedule to make an early delivery to our special guests.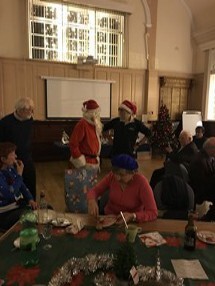 Thank you Don for putting in a word with Santa for us – we are so lucky that he fits us in every year!!!
As always our Montesson friends were thrilled at being included and spoiled!
We shared an excellent supper of home-made soup and desserts, cheese and wine and a drink or two while we chatted, but the real highlight of the evening was surely the traditional singing of Christmas Carols.
Thank you David (Jackson) for organising this part of the evening and to those of you who led the singing.
The Montessonais were clearly anticipating and looking forward to this as they had prepared a short repertoire of their own. The grand finale was a fantastic rendition of Jingle Bells in French very ably and creatively led by Jean-Pierre.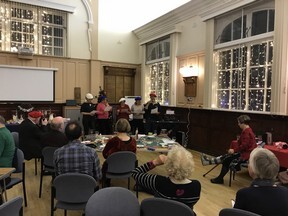 I hope that I speak for everyone when I say that there was a lovely atmosphere and a real feeling of being amongst friends.
Again another big thank you to everyone who helped tidy up at the end – many hands certainly did make light work!
I'm sure you'll be pleased to know that the evening raised just under £200, (ticket sales, treasure hunt and gift sales) which means that since the Quiz Night on November 2nd we have raised around £800.
This is a fantastic sum which means that we are in a very good financial position ready for the May visit. The provisional date for this is 10th - 12th May, so please keep this weekend free. I'll be in touch in the New Year to confirm the date and to request your help with hosting.
Until then, we would like to wish you all a very Merry Christmas and a Happy and Healthy New Year!